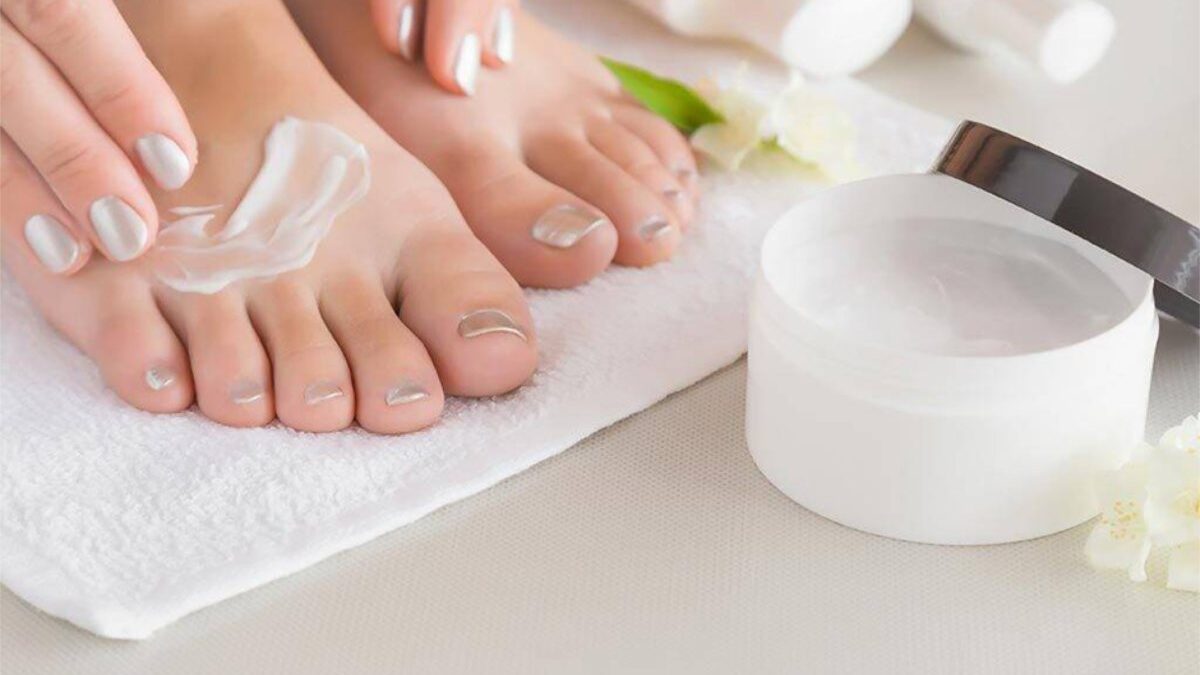 Now that the sandal season is just around the corner, your feet might need some extra care and additional revitalization. Rough skin needs to be gently removed, toenails – neatly trimmed, nail bed – smoothed carefully, and hang nails – kept at bay. And right now, you might be looking for the best at-home pedicure kit to do this all at a fraction of the cost of a salon visit. 
A pedicure isn't only about painting your nails and buffing away calluses. It's an indulgent experience that helps you unwind and meditate while someone else is doing your nails and attending to your tired feet. A salon experience is hard to beat. But there are times when you have to craft your pedicure yourself due to a tight budget, hectic schedule, or not having a reliable specialist on hand. No matter the reason, you want to be sure that your DIY pedicure is not inferior to that performed by professionals. And for this, you should arm yourself with the right at-home pedicure tools.
Tips to Keep in Mind When Selecting Home Pedicure Kits
If you're new to DIY nail care, you might be wondering what tools a pedicure set needs to contain to cover your basic pedicure needs. And though greater quantity doesn't always mean higher quality, you need to make sure your pedicure sets include all the essentials to recreate a salon experience at home.
What you should be looking for in your standard at-home pedicure kit is robust and ergonomic clippers or scissors for a healthy trim. It's also good to have the right nail file and quality buffer at hand to shape your nails and add a shiny finish upon the completion of your pedicure procedure.
As for the tools that are intended for professional use (sharp and unfamiliar instruments in particular), it's a safer bet to refrain from using them if you're new to at-home care. Still, if your goal is a salon-like pedi, consider investing in a professional pedicure tool kit that comes with such extras as cuticle nippers, pushers, spatulas, clean-up brushes, hydrating gel, etc.
In a hurry? Don't want to shop around for the best bargain? We'll get you covered. Right now you can check out our top picks of the best foot care kits below. 
Pedicure Set in Leather Case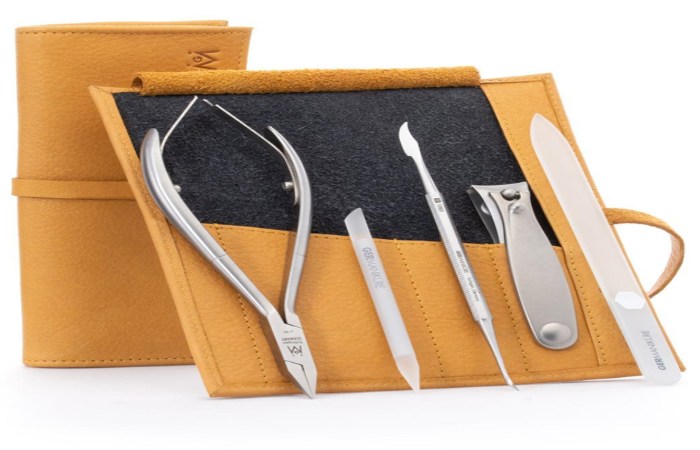 This is arguably the best pedicure kit available on today's market. Not only does it include the staples but also features some cool extras for a truly salon-like look of your nails.
Made from high-quality carbon stainless steel, ingrown nippers, and toenail clippers afford the best possible cutting experience without fraying or damaging your nails. There's also a great in addition to the nail cutters, this five-piece set boasts a great duo of a crystal nail file and award-winning glass cuticle stick.
GERMANIKURE Crystal Glass Nail File Set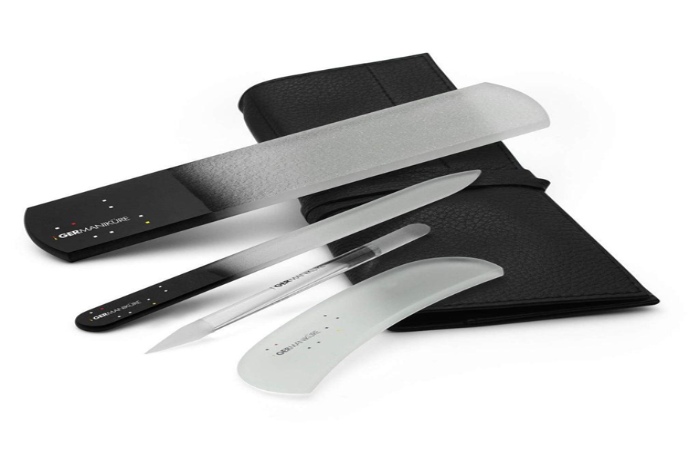 It's hard to overestimate the role of a good nail file in a pedicure. Not only does it help to shape your nails from scratch but also spruce up your pedi whenever necessary. And this best foot pedicure kit can definitely get all your filing needs covered! It features a standard Bohemian glass file for your everyday nail filing routine, a moon file for superb smoothness and shaping, a crystal pedicure bar for gently removing calluses, and a manicure stick, which is essential for fixing nail polishing mistakes and scraping dead cuticles.
Crystal Glass Nail File Set in Suede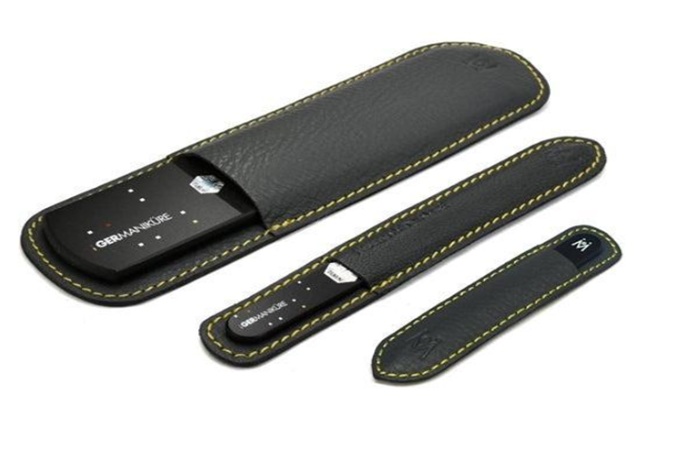 If you're after an affordable pedicure kit for home nail care, check out this three-piece minimalist crystal nail file set.
Inside this elegant suede pedicure kit, you'll find two crystal nail files that come in different sizes. These tools will make short work of filing rough edges without frays or gouges and help you achieve impressive results with just a few strokes. This set also comes with a great glass bar, which will make exfoliating dead skin on your feet a breeze.
Genuine Patented Czech Crystal Glass Nail File Set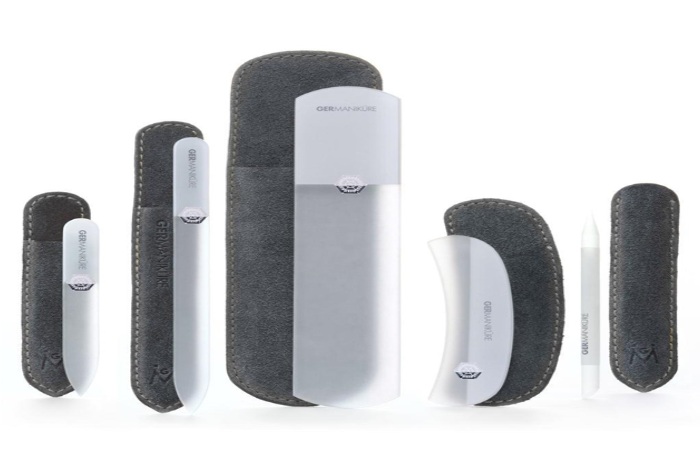 You'll have the best pedicure tools at your fingertips with this extensive crystal glass set. Elevate your everyday filing go-tos with a pedicure bar, double-sided moon file, manicure stick, and two standard nail files for smooth and snag-free toenails.
No matter which kit you choose, with a little bit of practice, you'll be able to achieve salon-quality results in the comfort of your own home. We hope that this guide has helped you choose the best pedicure kit for your needs and set to shop for the best at-home pedicure kits and keep all your ten toes in tip-top shape throughout the sandal season!   
Related posts