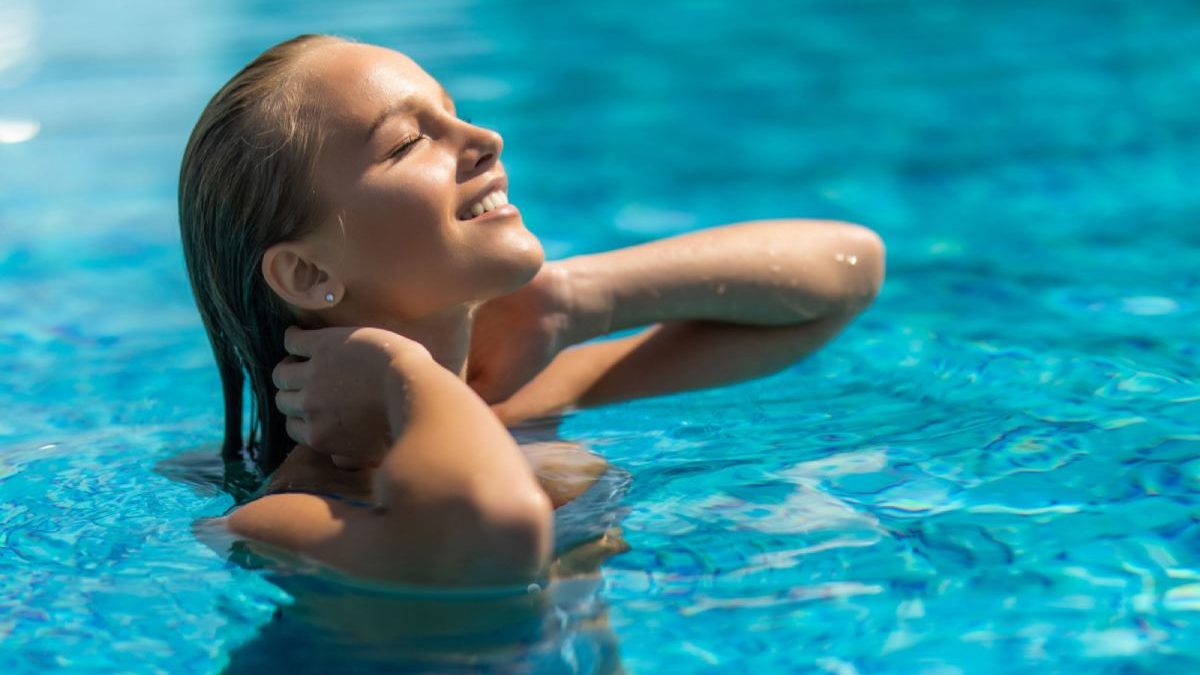 Protect Your Hair Color When Swimming in Pools | oVertone
glamourgenix, 1 week ago
4 min

read
4
POV: it's sunny– a season for the sun and dipping into the swimming pool. On top of that, you just colored your hair!
That's nothing to worry about. We're here to help you protect your hair from losing its color with a few easy steps. If you're worried about leaving conditioner in hair, oVertone's Toning Conditioners is a good choice for that purpose.
Put on your swimsuit, and let's dive in!
Protect Your Hair from Pool Water
Plunging into the pool feels refreshing. But with your colored hair, you need to take these practical steps to minimize damage from the harsh chlorine:
Step 1: Rinse yourself off.
We know how badly you want to dip into the pool the moment you see one. But hold up, follow the universal pool rule first! Rinse off with clean water first before you hit the pool. With your hair wet with clean water, chlorine, salt, and other harmful chemicals won't spread on your hair and strip the colors. It extends the colors of your hair a little bit more.
Step 2: Spread some hair oil.
Bring out your protective hair oil and apply a light amount to your freshly rinsed strands. Put more oil on the dry and damaged ends. The oil protects your strands from salt water in the pool.
Step 3: Pause for five minutes.
Give the oil a good five minutes to sink into your hair. Close your eyes and hum some tunes. Bask in the heat of the sun. Slather some sunproof sunblock all over your body like you're in a TV commercial.
Step 4: Put on a hat.
If you think adding the oil is enough, then think again. Your colored hair needs protection from the sun's UV rays. Now put on that adorable dad hat, your college baseball cap, or a stylish oVertone Bucket Hat to protect your hair at all costs! You'll protect your eyes and face too.
Step 5: Keep your hair hydrated.
Check on your hair every now and then. Apply more oil if it feels dry. Coconut, camellia, and argan oils are the best hair products for hydrating the mane. Make sure your hair is properly hydrated with essential oils to keep the color locked in. The oils act as a protective barrier to remove chlorine and add shine to your hair.
And while you're at it, wear a layer of sunscreen on your body too. If you have long hair, you may want to wear a swim cap for added protection.
Step 6: Refresh the strands.
When you're done in the pool and being under the sun, take a refreshing shower and apply a nourishing hair mask. You can use the ultra-hydrating deep conditioning treatment too. They refresh hair color, protect hair dye, repair fragile hair, and replenish lost moisture.
Step 7: Do some toning.
If your hair is now green after your pool sesh, don't panic. Apply an ample amount of oVertone Pink Toning Conditioner to remove unwanted undertones from your hair. This variant is best used when you have platinum to dark blonde hair and silver hair. Toning saves the day when your hair color goes through dramatic changes.
Applying a Toning Conditioner
Toning conditioners eliminate any undertones from the hair. It evens the color of your hair and removes brassiness on it.
Here's how to stay away from damaged hair with a toning conditioner:
Saturate the strands. Put enough conditioner on your palm. Rub your hands in a circular motion and apply it to your damp hair. Make sure all the undertones have conditioner on them.
Let it sit for 2-3 minutes. This time frame is just enough to let the color sink in the hair. You don't have to wait too long.
Rinse and dry your hair thoroughly. Remove all the residue. Leave your hair dry before styling it.
Style your hair in any way! Now that you have an even hair color, it's time to show it off!
How Chlorine Affects the Hair
Chlorine is one of the enemies of colored hair. As much as chlorine can kill bacteria, this, along with other pool chemicals, strips the hair of its natural oils that keep hair smooth and healthy. When you have colored hair, chlorine bonds quickly and draws out the artificial color. That's why your hair turns a different color when you get out of the pool.
If your hair hasn't undergone any color changes, constant chlorine exposure can change its natural color. It weakens your hair strands, and causes split ends. Always protect your color-treated hair from chlorine exposure. Ask your hair colorist if you need more ideas.
Chlorine's effects on the hair are damaging enough for various hair types. The next time you swim in pools, use a pre-swim conditioner to protect hair color at the pool.
Wrap It Up
Achieving a semi-permanent color on your hair takes some work. That's why protecting it from chlorinated water and heat damage is recommended. Color fading and dryness from chlorine water and UV rays are out of the way when you protect your hair.
Do you have other color-saving tips for dyed hair? Share them with us in the comment section!
Related posts